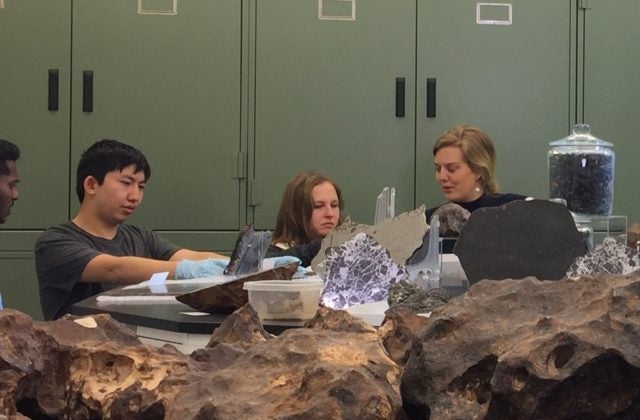 Capstone Projects
Capstone courses are culminating, project-based courses undertaken by university students in the final (senior) year of university.
A strength of capstone courses is that they involve students in applying their knowledge and skills to real-world projects. The Psyche mission is developing Psyche-focused projects for capstone courses across a range of disciplines. Watch the video below to learn more about the opportunities the Psyche Mission's capstone projects have to offer.
Capstone Projects
During the 2023-2024 academic year, Psyche capstone is partnered with colleges and universities across the country, including Arizona State University (ASU), Michigan State University (MSU), Oregon State University (OSU), Pennsylvania State University – Behrend (Penn State – Behrend), Rochester Institute of Technology (RIT), Rose-Hulman Institute of Technology (RHIT), University of Arkansas (U Ark), University of California – Irvine (UCI), University of Georgia (UGA), University of Texas – Tyler (UTT), and Virginia Commonwealth University (VCU), Brigham Young University – Idaho (BYU-Idaho).
Psyche capstone projects are available for teams at colleges and universities across the country. Interested in joining us? Submit your interest via the form below!
Tungsten Class (2023-2024)
Tungsten Class capstone projects
Tungsten Class participants and universities
Silver Class (2022-2023)
Silver Class capstone projects
Silver Class participants and universities
copper Class (2021-2022)
Copper Class capstone projects
Copper Class participants and universities
Nickel Class (2020-2021)
Nickel Class capstone projects
Nickel Class participants and universities
Cobalt Class (2019-2020)
Cobalt Class capstone projects
Cobalt Class participants and universities
Iron Class (2018-2019)
Iron Class capstone projects
Iron Class participants and universities
Titanium Class (2017-2018)
Titanium Class capstone projects
Titanium Class participants
Psyche Capstone Resources
Read about our approach to interdisciplinary capstone projects:
Baby Steps or Giant Leaps: Models and Means for Promoting Interdisciplinary and Inter-University Opportunities in Your Capstone (Capstone Design Conference virtual workshop, July 21, 2021)
Coordinating Opportunistic Interdisciplinary Projects Across Single- Discipline Capstone Courses (International Journal of Engineering Education Vol. 35, No. 6[B], pp. 1983–1992, 2019)
Two Universities, Two Disciplines, One Project: Perspectives of a Project Manager and an Engineer (Psyche blog, July 31, 2019)
Preparing Students to Work in Diverse Settings and Across Distance: Inter-University, Interdisciplinary Capstone Teams (Undergraduate Research Programs Conference, June 2019)
Coordinating Opportunistic Interdisciplinary Projects Across Single-Discipline Capstone Courses (Capstone Design Conference, June 2018)
Future Capstone Projects
Additional Psyche-focused capstone projects that may be undertaken by any interested university capstone course are in development. If you are a university capstone course instructor or administrator (or future capstone student) and would like more information, please fill out our interest form: