Psyche Inspired: Sarah Tennant

Institution: KANSAS CITY ART INSTITUTE
Major:
ILLUSTRATION AND CREATIVE WRITING (DOUBLE MAJOR)
Psyche Inspired Class: 2019-2020
PsycheBot
PsycheBot
Sarah Tennant
Major: Illustration and Creative Writing
Genre/Medium: digital
About the work: I really love making character designs, but I have not often worked with robots before. Because of that and the asteroid's partly metal composition, I thought it would be fun to illustrate Psyche as a robotic character. I chose a humanoid and skeletal appearance due to Psyche's possible nature as a protoplanet's core, similar to the core found inside of Earth. Its color schemes and designs lean toward a steampunk aesthetic in reference to preexisting scientific images of Psyche and hypothesized colors of the asteroid, which are based off the metals and materials that may comprise it. I felt like Psyche's hypothesized color scheme, oldness and derelict, and connection to the goddess of inspiration would lend itself well to the steampunk aesthetic. This aesthetic partakes in a science fiction sub-genre where, in a fictional 19th century, people had a steam-powered revolution, and they were inspired to create brassy, steam powered technology. I also tried to capture the look of the asteroid in the robot's face: misshapen and seemingly possessing of a pair of lopsided eyes, large and full of wonder. A certain rusty, old, endearing charm. I hope you can see it too.
Psyche Comic Page

Psyche Comic Page
Sarah Tennant
Major: Illustration and Creative Writing
Genre/Medium: digital
About the work: This piece was a way for me to illustrate Psyche in a form that inspires me and to return to the roots that led me to this internship. I love narrative illustration, and comics are an area of art I want to pursue as a career. The first comic I made seriously involved this ethereal, superhuman space voyager. That character sparked my interested in NASA, space programs, and space art. I would later make a piece about him descending on a foreign planet, which I submitted in my application for this internship. Now, years later, I have the pleasure of illustrating him descending onto Psyche in this very comic, in the hope that what originally inspired me can inspire others about Psyche. I was also interested in exploring Psyche's history and its terrain, so I wanted the comic to focus on those elements. I wanted to generate the same feeling of awe I felt when hearing Psyche's story of being an asteroid that may be the core of a planet, decimated by the impact of a foreign space object thousands of years ago.
   Psyche's Core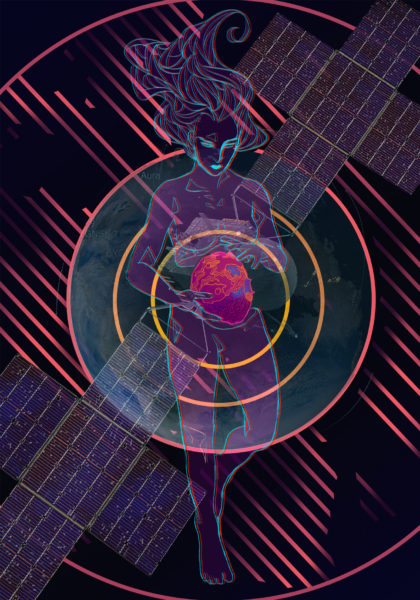 Psyche's Core
Sarah Tennant
Major: Illustration and Creative Writing
Genre/Medium: digital collage
About the work: After learning about the Psyche Mission team's desire to make their work's collaborative nature more publicly known, I knew that would be the basis for my next project. I made and sent a questionnaire to the Psyche Mission team and my fellow interns, where they gave me their reasons as to why they think the Psyche Mission is important. By using the responses of others involved with Psyche to inform my art, I was able to introduce a collaborative element to my artwork, which would reflect the collaboration that occurs among scientists and the Psyche Mission team. Their responses largely involved a yearning for discovery and exploration and how Psyche's similarities to Earth's core could help further our understanding of our own planet. I hoped to capture these sentiments in my art through the use of color and symbolism.
Psyche Comic
Sarah Tennant
Major: Illustration and Creative Writing
Genre/Medium: digital art
About the work: This was easily the most labor intensive project I did for my internship, but it was worth the work, as I am satisfied with the end result and learned so much about comic making and digital painting! This piece is a continuation of the work I made for Project 2, where I made a comic page based on a short poem I wrote about Psyche. I had a lot of fun making that comic page and decided I wanted to expand upon it and create a fully resolved mini-comic. However, I redrew the first page, since I felt that I had grown too much as an artist to use it in conjunction with new pages. I still maintained the narrative established in Project 2, though, where my ethereal protagonist explores Psyche's supposed terrain. The comic's text is comprised of the remainder of my poem, and I aimed to create a kind of reflective dialogue by pairing it with my illustrations. I think that when we examine Psyche, we can not only learn more about our Earth, but learn more about ourselves: our motivations for exploring the asteroid and the way we think about its physicality can provide insight into humanity's own psyche.