Psyche Inspired: Hope Elliott

Institution: Arizona State University
Major: Aerospace Engineering (Astronautics)
Psyche Inspired Class: 2022-2023
Reflections on Psyche Inspired
Reflections on Project 1: lindy Elkins-Tanton psyche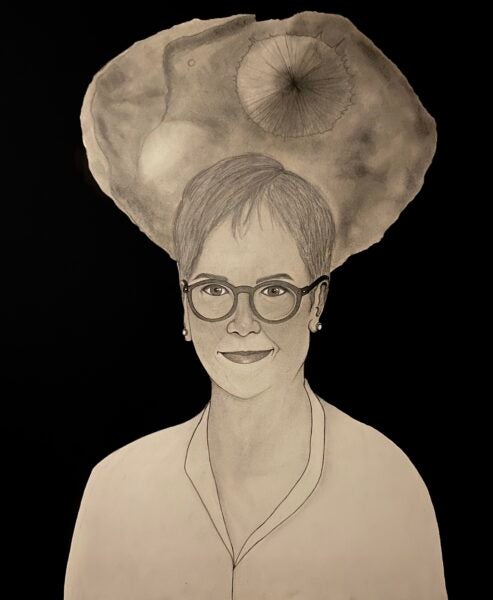 lindy Elkins-Tanton psyche
hope Elliott
Major: Aerospace Engineering (Astronautics)
Genre/Medium: Graphite and pens on paper
About the work: I created a formal portrait, drawn on paper, of Lindy Elkins-Tanton. Her story and accomplishments are inspiring and monumental. I highlighted her for my first project because her story needs to be heard. Many people would benefit from seeing what she has done and knowing they could do it, too. I have a lot of interest in renaissance portraits and wanted to take elements of that. I wanted Psyche 16 to be placed as a halo would in this style of painting. The placement of the asteroid is referenced to this and the literal meaning of "psyche". The simplicity is meant to push people towards the details and Dr. Lindy, herself. This was all created using graphite pencils, pens, and paper.
Reflections on Project 2: Launch on the Runway: A Psyche Fashion Line
Launch on the Runway: A Psyche Fashion Line
Alyssa Armstrong & Hope Elliott
Major: Aerospace Engineering (Astronautics)
Genre/Medium: Crochet and Digital Painting
About the work: 
For this project, we created crochet fashion pieces inspired by the Psyche mission. Alyssa also painted "Inspire the Next Generation" representing this project's theme to raise excitement about space exploration.
Hope:
I incorporated different colors, weights, and styles of yarn and thread while completing my collection. I liked using the different gray tones to portray shadows and craters as well as metallic thread for the metal aspects of Psyche. The colorful yarn on the ski mask was chosen because of its resemblance to the colors from the Psyche logo, and I liked the nod to it. I wanted my pieces to all be centered around Psyche 16, specifically, so they are all constructed to be reflective of its shape. My inspiration for this collection came from an artist Alexandria Masse, who crochets amazing art and whose balaclavas really spoke to me. She has brought so many ideas to the plain masks, that I really wanted to see what I could create.
Reflections on Project 3: Lazy Psyche
Lazy Psyche
Hope Elliott
Major: Aerospace Engineering (Astronautics)
Genre/Medium: Woodworking and acrylic paints
About the work: For Lazy Psyche, I constructed a wooden table, modified and painted a tabletop, and installed it using a Lazy Susan. When creating this piece, I wanted to make exploring 16 Psyche feel accessible and right at your fingertips. As the tabletop spins, new angles and perspectives of Psyche are brought to life and the imagination is left to run wild. I truly love this piece, because it continues to incorporate the Psyche mission into everyday life. You could have a meal, cup of coffee, draw a picture, catch up with friends, all done on Psyche. We are far from actually doing these things, but the Lazy Psyche makes it feel close. The tabletop was sanded down around the edges to transform the plain circle into an asteroidal shape. It was continued with acrylic paints to show the texture, craters, and material features; Metallic paint was included to account for the metallic properties known to Psyche. A clear coat of gloss allowed the tabletop to be fully protected and ready for use. The table base was also built and finished by hand with a dark wood stain to compliment the gray of the asteroid.
Reflections on Project 4: Wire We Going to Psyche
Wire We Going to Psyche
Hope Elliott
Major: Aerospace Engineering (Astronautics)
Genre/Medium: Crochet with metal wire, rocks
About the work: For "Wire We Going to Psyche" I crocheted the body of the asteroid using different gauges of metal wire. Once the shell was completed, it was filled with different types of river rocks to complement the wire and add dimension. This allows the model to have bumps, ridges, and dips. The model was filled with rocks inside the glass vase to also help it hold its shape and be easily viewed. Rocks and wires are also littered throughout the bottom of the glass vase. The model was created to give people my creative take on Psyche 16 and to invite them to explore it. The model can be felt and touched through the opening of the glass bowl. This was included to help explore the metallic and rocky features of the asteroid easily. I was inspired by @Izana.art on TikTok to try a new method of crocheting with wire. I have loved depicting Psyche in different mediums throughout this program, and I thought that this could be so well applied to Psyche 16.