Psyche Inspired: Kari Sanford
Institution: Arizona State University
Major: Engineering Management
Psyche Inspired Class: 2017-2018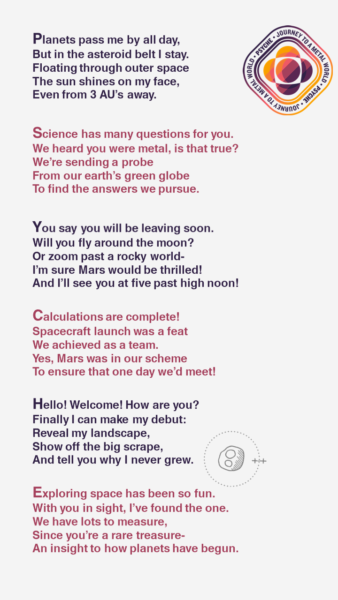 Psyche Limericks
Kari Sanford
Major: engineering management
Genre/Medium: limericks
About the work: I wrote a series of limericks. Each poem's first letter spells out "Psyche." The limericks alternate in perspective of the asteroid and spacecraft as they chat with each other. Since limericks are short, quirky, and silly in nature, I tried to give each of the Psyche's that personality through poetic dialogue.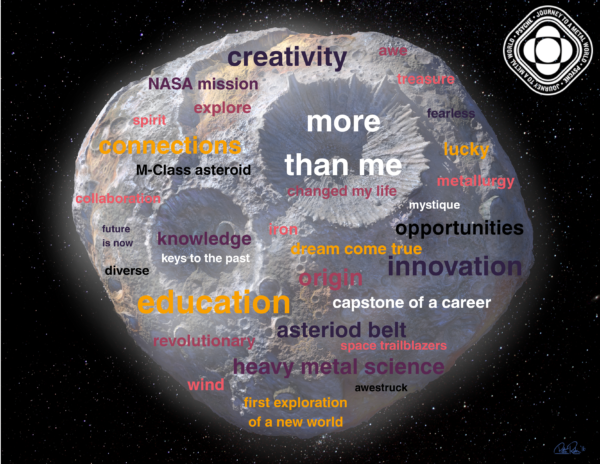 Psyche Word Cloud
Kari Sanford
Major: engineering management
Genre/Medium: word cloud
About the work: I wanted to tell the stories of the minds and hearts behind the Psyche Mission. With the team's help, I approached scientists, engineers, journalists, and students associated with this mission and solicited their feedback. All of the words/phrases in this word cloud are their own. The most frequent, and inspiring, feedback that I saw was, 'More than me,' or 'Bigger than me.' This mission has helped people look beyond their own skillset and find ways to help others grow. Psyche has created a community through engagement: we are all connected through our pursuit of knowledge in deep space.
Special thanks to the contributors: Rona Oran | Steven Dibb | William Bottke | Tess Calvert | Dave Williams | Lindy Elkins-Tanton | Tim McCoy | Hannah L Bercovici | Brooke Owen | Mark Wieczorek | Sofia Garcia | Abigail Weibel | Karin Valentine | Erick Ramirez Cordero | Makenzie Kundrat | John Christoph | Stone Woodham | Brendan Scobie | Rachael Tjahjo | Isaac Wisdom
Psyche Poems
Kari Sanford
Major: engineering management
Genre/Medium: poetry
About the work: For the ASU Open Door public event on February 24, I wrote approximately 30 personalized poems, with space words chosen by the participants. These half-sheets also have a link to the Psyche website, coupled with coloring images of the Psyche Logo and an artist's rendition of the asteroid. My favorite poem I wrote that day was:
Staring up high, guided by an azimuth,
I spy a star hidden in a labyrinth.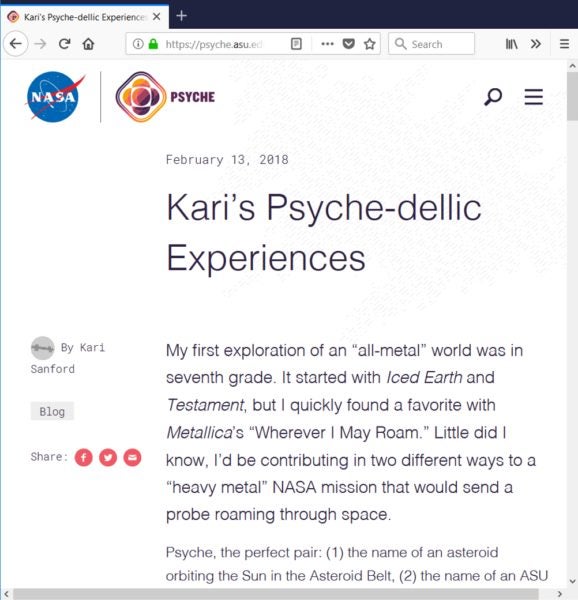 Kari's Psyche-dellic Experiences
Kari Sanford
Major: engineering management
Genre/Medium: blog
About the work: My first exploration of an "all-metal" world was in seventh grade. It started with Iced Earth and Testament, but I quickly found a favorite with Metallica's "Wherever I May Roam." Little did I know, I'd be contributing in two different ways to a "heavy metal" NASA mission that would send a probe roaming through space.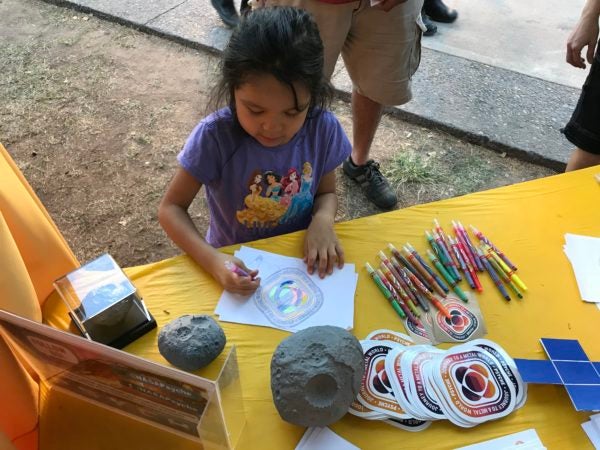 Psyche For Kids
Kari Sanford
Major: engineering management
Genre/Medium: lyrics and graphic design
About the work: These two works are designed to engage younger students in the mission. The song, called "Beep, Boop, Beep, Boop Asteroid," about finding Psyche, is set to the tune of "Twinkle, Twinkle, Little Star."
Download the lyrics
Listen to a recording
The coloring sheet is an outline of the ASU Psyche badge.
Papier Mache Psyche
Chris Vasquez and Kari Sanford
Major: drawing (Chris); engineering management (Kari)
Genre/Medium: wire, foam, paper
About the work: For this project we made a replica of the Psyche asteroid roughly the size of a laundry basket. We used a papier-mâché technique in order to achieve this goal, using wire, foam, and paper. This provides a tangible way for people to "interact" with the asteroid.