Psyche Inspired: Sam Hollasch

Institution: Rochester Institute of Technology
Major: Industrial Design
Psyche Inspired Class: 2020-2021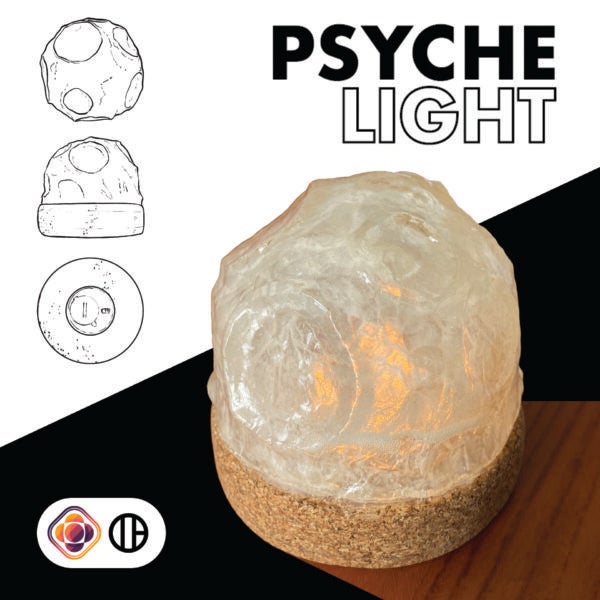 Psyche Light
Sam Hollasch
Major: Industrial Design
Genre/Medium: sculpture and product design; made from clear-set resin and cork
About the work: This is a light, or mood lamp, made from cork and clear-cast resin. The base is laminated cork that has been sanded smooth with a natural finish. The dome is sculpted to mimic the cratered surface of the asteroid Psyche. The texture is double-layered: both the outer and inner surfaces were cast from heavily sculpted molds. The outside is finished with a hard-set clear coating, and the inside is frosted to reduce transparency. The shifting, translucent surface of the dome diffuses a soft orange light, which flickers gently at the heart of the form.
For this project, I was inspired to create a representation of Psyche's potential as a source of knowledge and discovery. There is still much that remains unknown about the asteroid, and there is opportunity there to learn more about the universe, and about ourselves. The light of this little lamp represents that journey of discovery.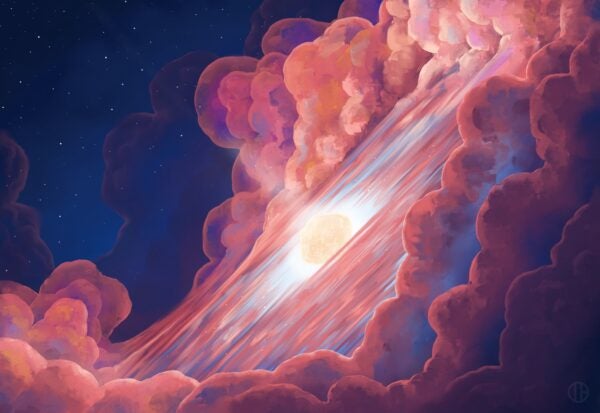 Heart of Gold
Sam Hollasch
Major: Industrial Design
Genre/Medium: digital illustration
About the work: The Psyche asteroid is hypothesized to be the remains of a protoplanet formed in the early solar system that underwent collisions that shed it of its outer layers, leaving exposed core material behind. The Psyche asteroid was named after the titular figure in Greek mythology – the goddess of the soul. I was inspired by the name and the story of the asteroid's creation – the idea that Psyche is the exposed heart of a long-vanished planet. This illustration shows the luminous metal core just after the moment of impact, when its light first breaks through a cloud of debris.