Psyche Inspired: Aarti Patel

Institution: University of Pittsburgh
Major:
Mechanical Engineering
Psyche Inspired Class: 2020-2021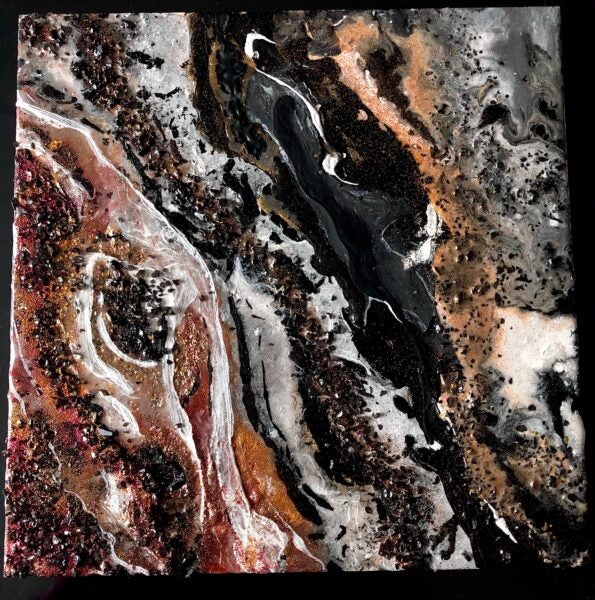 Flyover of Psyche
Aarti Patel
Major: Mechanical Engineering
Genre/Medium: epoxy resin pour of acrylic paint texturized with black crystals and glitter on a wooden panel
About the work: Flyover of Psyche is an abstract, detailed view of what I imagine the surface of Psyche to look like. As an asteroid likely largely made of metal, I wanted to use vibrant gold, iron, and nickel colored tones to showcase the textures and formations that might be present on the surface. I have always wanted to try resin art and was inspired by various photos I have seen of geode resin art and marble-like finishes. The abstract technique and the marble-like finish were both qualities that I believed would showcase Psyche's surface in a unique way. The piece was created on a wooden panel. I used epoxy resin mixed in with acrylic paint to create a thick consistency. The actual painting of this piece was done by pouring cups of the various paints onto the panel and blending it with a heat gun to control the direction and fluidity of the blend. Black crystals and glitter were added on the thick paint to add more of a rocky and metallic touch to the surface.
Essence of Psyche
Aarti Patel
Major: Mechanical Engineering
Genre/Medium: scratchboard medium with carvings done by scratch knives and gouache paint added for color
About the work: For my first project in this program, I wanted to focus in on the contours, topography, and ultimately the essence of Psyche. The main focus was to create vibrant metallic textures that may be found on the Psyche asteroid. There is a possibility that Psyche may consist largely of metal from the core of a protoplanet, and with that, I was inspired to create a very detailed scratchboard piece highlighting the craters and ridges formed from violent impacts present early in the formation of Psyche. To highlight the metallic texture and the colors of the Psyche mission, I used diluted gouache paint for the contours of Psyche, and I used a more opaque form of the gouache paint for the satellite and the galaxy clouds, which were done in the mission's colors.