Psyche Inspired: Nikka Bacalzo
Institution: Arizona State University
Major: Graphic Design
Psyche Inspired Class: 2017-2018
Psyche Paper Lamp Shade
Nikka Bacalzo
Major: graphic design
Genre/Medium: paper and acrylic paint
About the work: This lamp shade was constructed from 11 'flower' templates that I spray painted then textured with black and three different shades of matte silver acrylic paint. I decided to cut each 'petal' irregularly to give more texture that Psyche may have. I cut each 'petal' halfway through so all of the templates interlaced with each other and there was no glue necessary.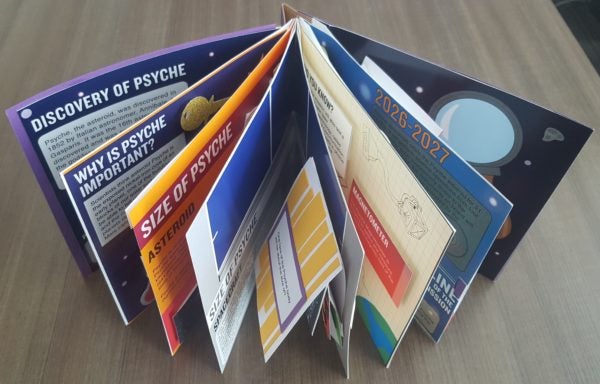 Psyche Pop-Up Book
Nikka Bacalzo and Anne Norenberg
Major: graphic design (Nikka); digital culture (Anne)
Genre/Medium: paper art and graphics
About the work: This informative book was a collaboration between Nikka Bacalzo and Annie Norenberg. Annie designed the pages of the book and Nikka elevated the pictures with foam core as well as added the pull-tabs and pop-ups with cardstock, cut with an X-Acto. The book outlines a little history of Psyche, its instruments, the launch date and the purpose of the mission. Dimensions are ~8″ x 7″. View all the pages.
Psyche Stop Motion
Nikka Bacalzo
Major: graphic design
Genre/Medium: paper art stop motion film
About the work: This stop motion shows Psyche leaving Earth, passing the Moon, Mars, and a few meteoroids on its way to Psyche. All pieces were hand-cut from weighted cardstock. Dimensions of the Psyche spacecraft are 2" x 0.75". The music is a piece called "Ideas" written by fellow Psyche Inspired intern Isaac Wisdom! Cinematography by Matthew Berger.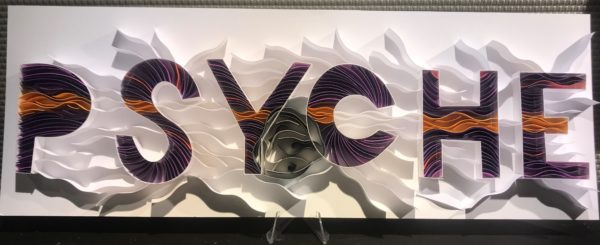 Psyche Paper Quilling
Nikka Bacalzo
Major: graphic design
Genre/Medium: paper quilling
About the work: I outlined the word Psyche with white cardstock and chose colors similar to the Psyche logo to fill in the letters. I chose to run the yellow colors through the middle of each letter, and surround the letters with white wavy pieces to create more movement, since Psyche will be orbiting! I also included Psyche the asteroid in between the "Y" and "C" as a focal point. Dimensions: 17″ x 6″.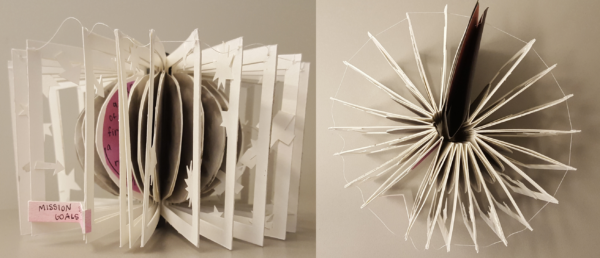 Psyche 3D Book
Nikka Bacalzo
Major: graphic design
Genre/Medium: paper and watercolor
About the work: The Psyche 3D book is intended to inform viewers of one of the mission goals: to explore a world made of metal. I originally saw this idea from artist Yusuke Ono who has done these 3D books for Mt. Fuji and also stories like Little Red Riding Hood and Jack and the Beanstalk. I ended up creating 20 templates of the Psyche shape, used watercolor to show varying textures, folded each template, glued them together, then strung them in order for them to fan out evenly when you open the book.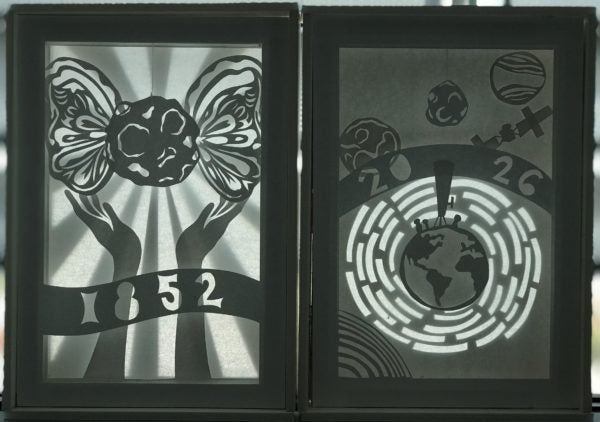 Psyche: Then and Now
Nikka Bacalzo
Major: graphic design
Genre/Medium: white cardstock paper, foam core
About the work: These two pieces that I cut with an X-Acto blade show the "then" and "now" of Psyche. I layered multiple different cut-outs, separated and framed by foam core, to create the final piece. The Psyche asteroid was named after a Greek goddess, which inspired the idea of hands presenting the asteroid, as well as the wings she had that float behind. Fast forward-ing to 2026, the expected arrival date of the Psyche spacecraft, the second piece includes people looking through a telescope at Psyche, as well as Jupiter and Mars, which are near Psyche. Dimensions: 8.5" x 6".