Psyche Inspired: Megan Bromley
Institution: Arizona State University
Major: Biogeoscience/English (double major)
Psyche Inspired Class: 2017-2018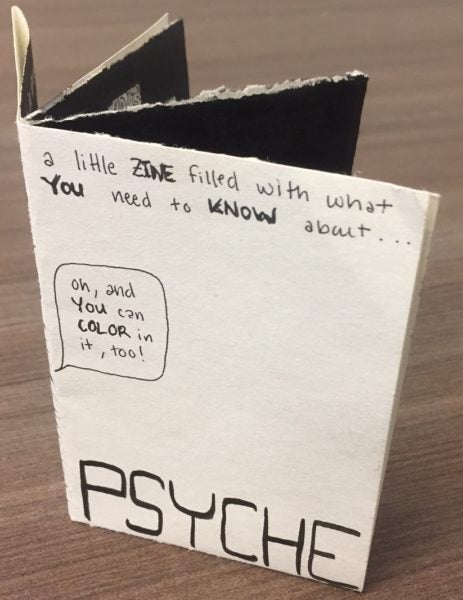 Psyche Zine
Megan Bromley
Major: biogeoscience and English
Genre/Medium: paper and ink
About the work: This work is a one-page 'zine' about Psyche that anyone can make and read. It is printed all on one side of a page and, when folded correctly, makes a small 8-page book. There are both images and written facts and poetry about Psyche. It is designed in black and white so the reader can color it and add their own art to it.
Download and print out the zine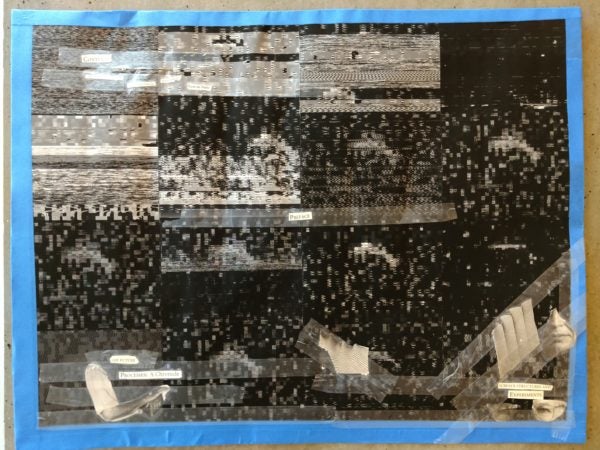 (16) Psyche
Megan Bromley
Major: biogeoscience/English (double major)
Genre/Medium: ink-printed paper, cellophane tape
About the work: This work underscores the mysterious nature of the asteroid and the importance of the mission. It emphasizes that our current images and predictions about the asteroid are useful, but ultimately can be distortions, not unlike the images I've made. Exploration attempts to reconcile this divide between reality and knowledge. To create this work, I converted a pixelated image of (16) Psyche into a sound file, applied 16 different combinations of sound filters to the file, converted those 16 results back to image files, and added each edit as a tile in a larger grid of 16 images. Taped over the top is an accompanying collage poem.