Psyche Inspired: Caralie Cedarleaf
Institution: Arizona State University
Major: Sculpture
Psyche Inspired Class: 2017-2018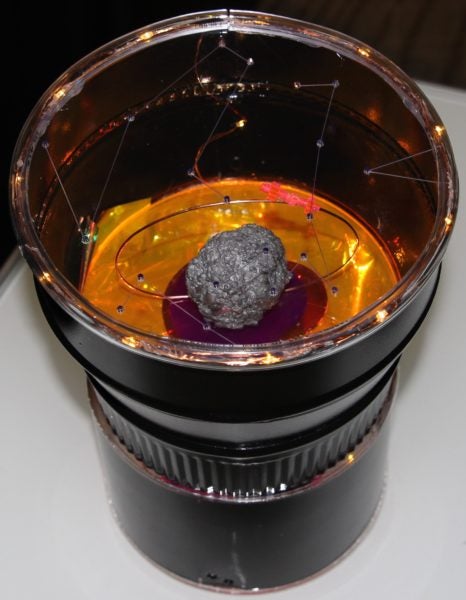 Backyard Telescope
Caralie Cedarleaf
Major: sculpture
Genre/Medium: cast iron, acrylic, LEDs, copper wire, dichroic film, aluminum ducting
About the work: Backyard Telescope represents the accessibility of the asteroid (16) Psyche to scientists and non-scientists alike because of the Psyche Mission. Images and information collected during NASA-led missions are made available as part of the public domain, allowing amateur astronomers a chance to learn about space. This diorama returns to a childlike fascination with exploration and learning.
The asteroid in the center is cast in iron, an element in Psyche's composition. The laser cut Psyche spacecraft orbits the asteroid on a copper wire, referencing Arizona's role in the mission. The star patterns are designed after sculptures of the goddess Psyche from the era of the asteroid's discovery. The dichroic film – which was developed in the late 1950s by NASA and the Department of Defense to protect sensitive instruments from cosmic radiation and to shield astronauts' vision from unfiltered sunlight – represents the decades of great scientists and engineers who have made and continue to make space exploration possible.
Psyche's Journey to a Metal World
Caralie Cedarleaf (Text), Jeremy Seidner & Chris Vasquez (Illustrations), & John Domenico (Story Concept)
Majors: sculpture (Caralie); computer science (Jeremy); drawing (Chris); ceramics/materials science (John)
Genre/Medium: creative writing and digital illustration
About the work: This children's coloring book tells the story of Psyche's journey. Read the book online or download and print the full book to color the pages yourself:
Psyche's Journey to a Metal World
(PDF: Regular – 3MB / Large – 39MB)
Metal World
Caralie Cedarleaf
Major: sculpture
Genre/Medium: metal
About the work: Metal World is a speculative iron landscape that could be found on 16 Psyche. This speculative landscape started as a layer of burn-out wax from the Foundry at the School of Art at ASU. Wax that is burned out drops several feet onto a pool of water and is collected for reuse. The result is organic in shape and resembles aspects of planetary geology such as impact cratering and volcanism. Wax is melted out of ceramic shells, which is the final step before pouring molten metal. One day we may start mining in space and, in this future, it is possible that traditional foundries will still be making art by modeling in wax and burning it out before casting in iron and other metals from far away asteroids.
Psyche Acrylic Pop Art Posters
Caralie Cedarleaf
Major: sculpture
Genre/Medium: transparent acrylic
About the work: The Psyche Mission is possible today because of NASA's work in the late 50's into the early 60's and 70's. Inspired by the Pop Art Movement that thrived during those decades, the Psyche Posters celebrate that era of advancement. Details were cut from transparent acrylic; brightly colored solid pieces fit together with the detail pieces. A colorful image is cast behind each poster when lit from one side.