Psyche Inspired: Anne Norenberg
Institution: Arizona State University
Major: Digital Culture (Design)
Psyche Inspired Class: 2017-2018
Eye of Psyche
Anne Norenberg
Major: digital culture (design)
Genre/Medium: short film
About the work: Looping video created in Adobe After Effects to take the viewer on a journey through the Eye Of Psyche. I used MaxMSP to display projections with help of David Tineapple.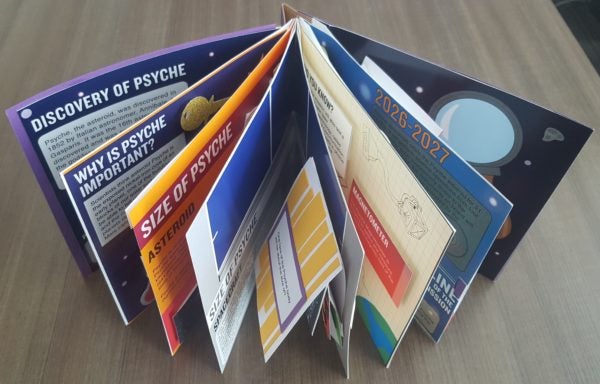 Psyche Pop-Up Book
Nikka Bacalzo and Anne Norenberg
Major: graphic design (Nikka); digital culture (Anne)
Genre/Medium: paper art and graphics
About the work: This informative book was a collaboration between Nikka Bacalzo and Annie Norenberg. Annie designed the pages of the book and Nikka elevated the pictures with foam core as well as added the pull-tabs and pop-ups with cardstock, cut with an X-Acto. The book outlines a little history of Psyche, its instruments, the launch date and the purpose of the mission. Dimensions are ~8″ x 7″. View all the pages.
Psyche Eye Chart
Anne Norenberg
Major: digital culture (design)
Genre/Medium: digital illustration
About the work: This work was inspired by Luke Dubois' Hindsight is Always 20/20 project. I made a Psyche Stylized Snellen eye chart, which helps determine a patient's eyesight from the ability to measure the distance from the chart while reading the letters. I also took words that were important to the Psyche mission and included them as the lines on the eye chart.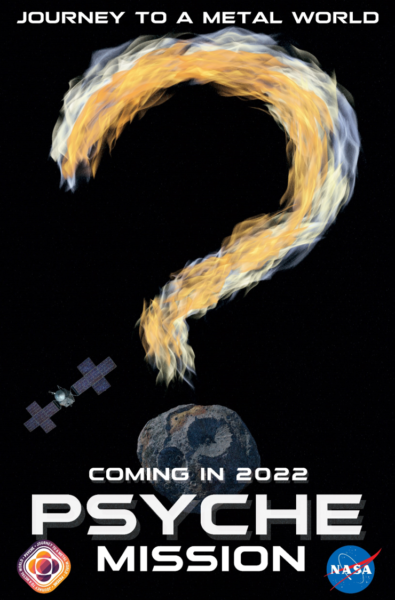 Coming in 2022: Psyche Mission
Anne Norenberg
Major: digital culture (design)
Genre/Medium: illustration in Photoshop
About the work: For this project I created a Psyche Mission movie poster to highlight the curiosity of the mission. I created flames depicting a question mark with the Psyche asteroid as the period of the question mark to show the mystery and endpoint of the mission.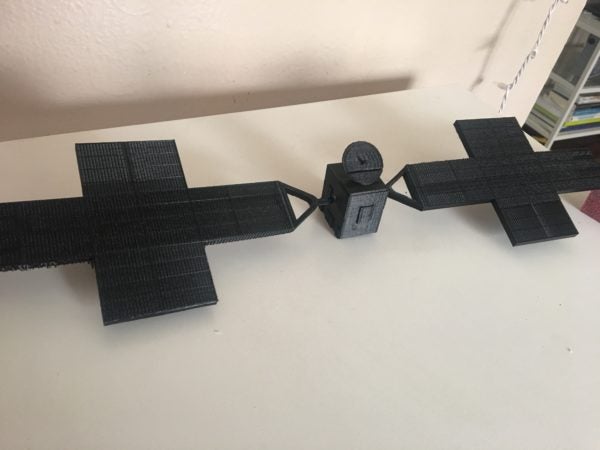 Psyche Spacecraft 3D Model
Anne Norenberg
Major: digital culture (design)
Genre/Medium: 3D design and printing
About the work: For my first Project, I created a 3D model and 3D-printed model of the Psyche spacecraft using AutoDesk Fusion 360. I constructed the model in three different parts so that it is a buildable model. I printed the Psyche spacecraft on a Makerbot 3rd Generation printer and the material is PLA plastic. The model of the spacecraft is to scale and includes the body of the spacecraft and the two solar panels.