Psyche Inspired: Rachel McNeil
Institution: Emory University
Major: Environmental Sustainability Management
Psyche Inspired Class: 2018-2019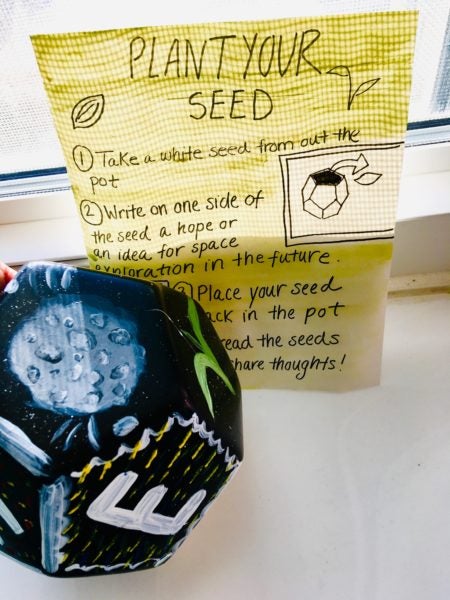 Plant Your Seed
Rachel McNeil
Major: environmental sustainability management
Genre/Medium: acrylic paint on pre-made pottery
About the work: This piece is interactive and meant to engage with audiences in a way that prompts them to consider the infinite possibilities space exploration holds and how they can participate. This piece combines science, art, nature, and artificiality in a way that pushes the viewer to reconsider the definition of science and the role art plays in discovery. For the interactive component of the piece, I ask viewers to write an idea or hope they have for future space exploration on tiny cards shaped like seeds. Viewers are encouraged to not only write but also read the ideas of others in hopes of spurring inspiration and allowing viewers to interact with each other indirectly. This project not only functions as a piece of art but also a real-time artifact that holds the thoughts of many people with differing backgrounds, levels of education, and perspectives on space.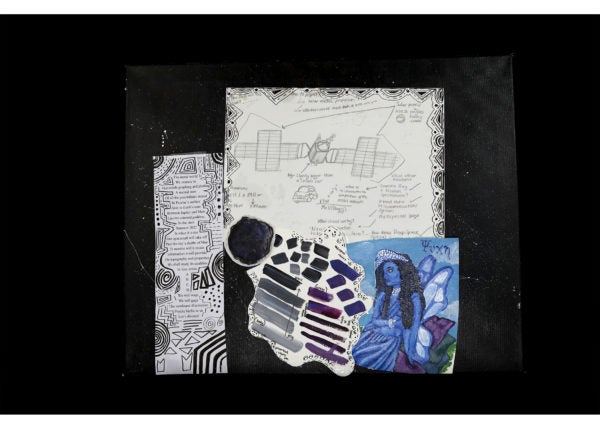 The Scientist's (art) work
Rachel McNeil
Major: environmental sustainability management
Genre/Medium: mixed media
About the work: This piece aims to redefine what we traditionally think of as "science" by showcasing the very creative and inspirational process scientist go through when carrying forth research. This work serves as an example of how STEAM (Science, Technology, Engineering, Arts, and Mathematics) is interconnected and can be utilized to convey scientific data in a more engaging and accessible way.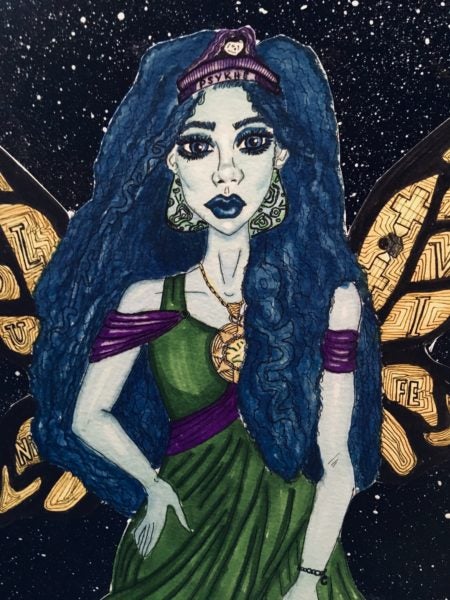 Psykhe: The Goddess and Asteroid
Rachel McNeil
Major: environmental sustainability management
Genre/Medium: painting/acrylic and marker
About the work: This painting depicts the goddess, Psykhe, for whom the asteroid was named. In this piece, there are hidden images and text that relate to the discovery story of the asteroid. If you look closely at tendrils of hair, accessories, and wings, you'll find clues that relate to numerous aspects of the Psyche asteroid, such as the scientist who discovered it, what it is believed to be made out of, etc.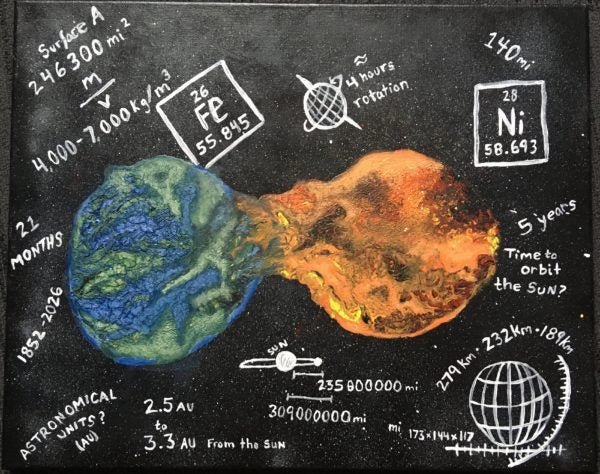 Transfer
Rachel McNeil
Major: environmental sustainability management
Genre/Medium: acrylic paint
About the work: This piece explores the transfer of information between the asteroid Psyche and the Earth. The mission to Psyche the asteroid could provide us with more information about Earth's core. Thus, this piece depicts what information scientists have discovered so far about Psyche through the white infographics and pieces of data. The Earth is green and blue and appears to be merging with a ball of orange, red, and black, which represents the information about Earth's core Psyche could provide. Instead of depicting what Psyche, a metallic asteroid, could possibly look like, I decided to focus on the data transfer about cores by portraying an image of what someone would usually think of when talking about the Earth's core.