Psyche Inspired: Dagan Sassarini
Institution: Arizona State University
Major: Chemical Engineering
Psyche Inspired Class: 2018-2019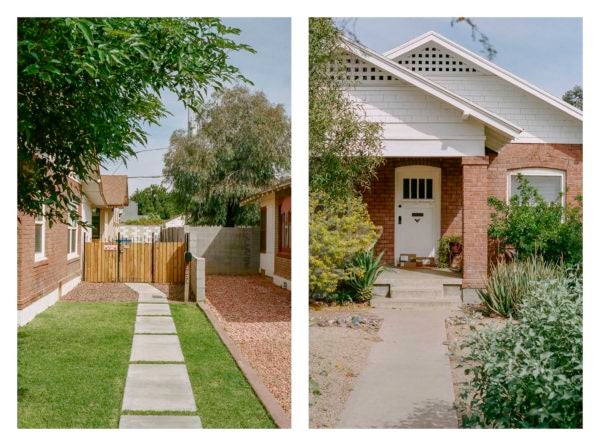 At home or far away
Dagan Sassarini
Major: chemical engineering
Genre/Medium: photography
About the work: These photographs represent the importance of discovery, even in our own backyards. I hope that they are satisfying to look at. More importantly, I hope they spark some curiosity within you. In the most ideal situation, the viewer will find motivation to go on walks in their own neighborhood, to see new patterns in our environment, and to explore the universe close to home as intently as humanity continues to explore our final frontier.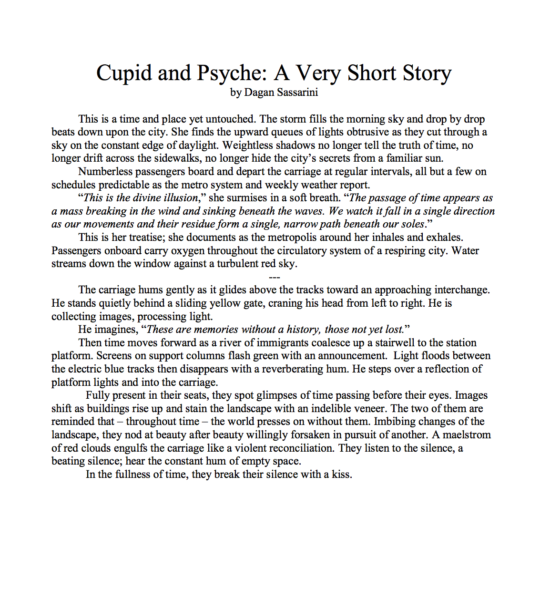 Cupid and Psyche: A Very Short Story
Dagan Sassarini
Major: chemical engineering
Genre/Medium: fiction
About the work: This is a story set in a time and place yet untouched – but still glimpsed by us all, whether in our future or past. The storm fills the morning sky and drop by drop beats down upon the city. She finds the upward queues of lights obtrusive as they cut through a sky on the constant edge of daylight. Weightless shadows no longer tell the truth of time, no longer drift across the sidewalks, no longer hide the city's secrets from a familiar sun.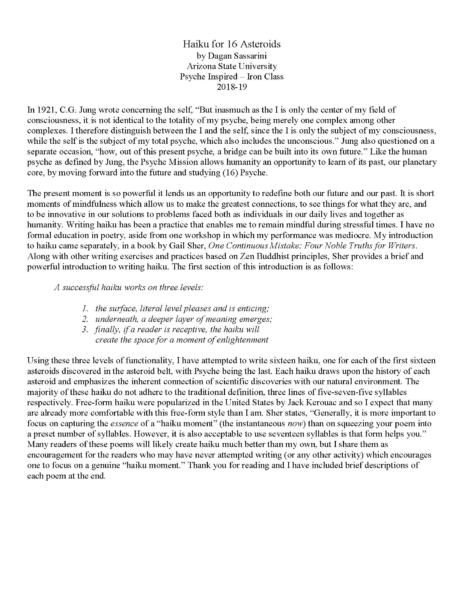 Haiku for 16 Asteroids
Dagan Sassarini
Major: chemical engineering
Genre/Medium: poetry
About the work: The present moment is so powerful that it lends us an opportunity to redefine both our future and our past. Short moments of mindfulness allow us to make the greatest connections, to see things for what they are, and to be innovative in our solutions to problems faced both as individuals in our daily lives and together as humanity. Writing haiku is a practice that enables me to remain mindful during stressful times. Using three levels of functionality outlined by Professor Gail Sher, I have attempted to write sixteen haiku, one for each of the first sixteen asteroids discovered, with Psyche being the last. Each haiku draws upon the history of each asteroid and emphasizes the inherent connection of scientific discoveries with our natural environment.
Photosynthesis
Dagan Sassarini
Major: chemical engineering
Genre/Medium: photography
About the work: Psyche Inspired serves as a reminder that the arts and sciences are not at odds with one another. It reminds us that the incremental acquisition of understanding through observation can be shared and expressed creatively. These are the fundamental concepts that shaped this project, which began with research about the asteroid's scientific history and about a dozen scientific articles from the second half of the 20th century describing Psyche in terms of photometric analyses. Thus, Photosynthesis is collection of photographs and scientific articles combined in an attempt to explore similarities between photography and an earlier period of Psyche research. The Psyche mission and the photographs in this project both serve a purpose of acquiring information that may lead to a better understanding and appreciation of our own planet. Trees, which also contain important information in their cores, are the subject of these photographs. Much like the Psyche mission, light brings them to life.