Psyche Inspired: William Strunk
Institution:
The Citadel
Major:
Civil Engineering
Psyche Inspired Class: 2019-2020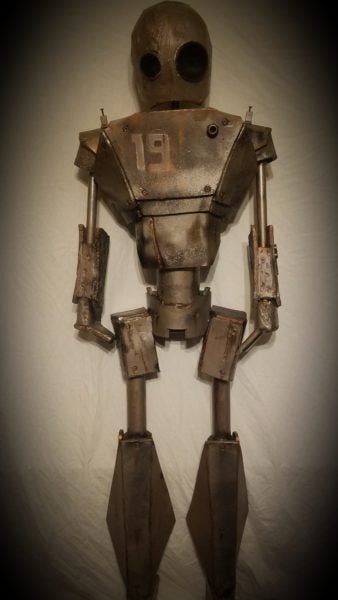 Psyche Bot Model-19
William Strunk
Major: Civil Engineering
Genre/Medium: Steampunk, Robot Statue, 3/4″ PVC pipe, EVA foam, & cardboard
About the work: An asteroid comes in many shapes, forms, and sizes. What would the personification of one look like? This project was my vision for a robotic form of the asteroid Psyche. The robot's plating is designed to resemble the surface of an asteroid, which shows damage and erosion from time and collisions with other objects. Each indent or scratch has its own history. Even though the robot is damaged and rusting, it still stands strong at 6 feet tall. It is made from EVA foam and cardboard, and it is supported by PVC pipes.